The legendary Le Mans winner, the iconic Jaguar C-Type, returns for its 70th anniversary in an extremely limited continuation run. Up to 16 hand-built models will be created, designed to the exact specifications of the 1953 Le Mans-winning "works" C-Type sports racer. Buyers will be able to customize colors, badges and add optional features. The C-Type is the fourth Jaguar continuation model and the first to use 3D CAD software to create a virtual build.
History
Chief Jaguar engineer William Heynes commissioned a dedicated competition model of the 120mph Jaguar XK 120 in 1950. The Jaguar C-Type, originally named the XK120C, debuted in 1951 and won its first 24 Hours of Le Mans the same year. Produced for just two years and only 53 units, the Jaguar C-Type is a rarity; only 43 were sold to private buyers.
For its first Le Mans win in 1951, three Jaguar C-Types were entered, with the winning car driven by Peter Whitehead and Peter Walker, who pushed the Jaguar race car to an unheard-of average speed of 93.495 mph. The other two Jaguar C-Types took second and fourth place, with second-place driver Stirling Moss breaking the lap record by six seconds.
In 1952, the legendary disc brakes developed with Dunlop got added to the Jaguar C-Type. Pioneering the new technology, the C-Type became the first race car equipped with disc brakes to win a race – at Reims, again with Moss at the wheel.
In 1953, the Jaguar C-Type again took the top spot at Le Mans, in part thanks to an even lighter design and those new disc-brakes that could last the entire 24-hour race. Over 2,500 miles, the 1953 C-Type averaged 105.85 mph, becoming the first winner to break the 100 mph average. The historic win won the attention of race car drivers, enthusiasts, and even Her Majesty the Queen, cementing Jaguar's leading role in race car ingenuity.
Design
The first Jaguar C-Type was designed and built in just six months. Endurance race cars of the day were not built to last, just to go fast. The iconic design, with a fluid, aerodynamic shape, changed the game for Jaguar race cars. Jaguar designer Malcolm Sayer used his background in aerospace engineering and art to create the exotic design. Mathematical formulas and calculations enabled the smooth 3D curves and low aerodynamic profile.
The resurrected Jaguar C-Type continuation model uses higher quality materials and more attention to detail, as these replicas are made to last – and go fast. With 1,000 hours of high-speed durability testing, the C-Type continuation is approved for track racing, closed-road uses and heritage races.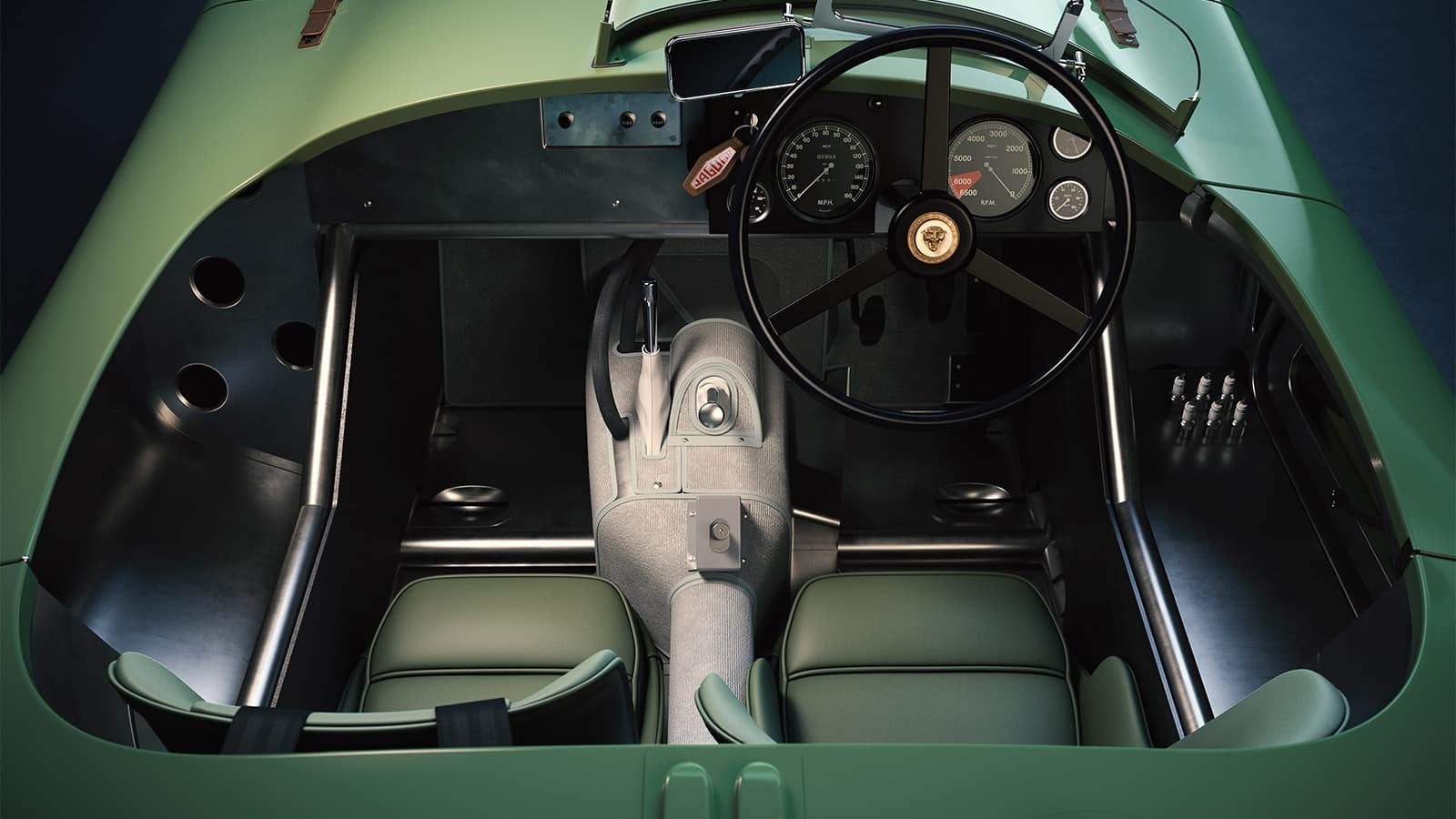 Every effort was made to retain authenticity, with Jaguar Classic designers referring to original drawings, documents and photographs, locating original parts, and even referring to personal notes by Sayer. The research and design process took over two years to gather the data needed for the 3D CAD design. Using this technology, Jaguar Classic designers were able to replicate Sayer's original designs and recreate the historic Jaguar roadster for a new generation.
Authenticity
The new Jaguar C-Type continuation model runs on the same 220-hp 3.4-liter straight-six engine with triple Weber carburetors and disc brakes that won the 1953 Le Mans. Each C-Type engine takes over nine months to build, requiring painstaking exactness. The Weber carburetors are refurbished to enhance authenticity, while other elements were recreated to be as they were in 1953.
No detail was looked over, including the brackets on the brake fluid reservoir, which serve no purpose for the Jaguar C-Type but were part of the original build. They were taken from another vehicle at the time – endurance racers were built quickly with more attention to performance than practicality.
Hours of design and craftsmanship are required to authentically recreate each and every part of the new Jaguar C-Type continuation model. The 2021 Jaguar C-Type features the original 4-speed manual transmission and Plessy pump fitted to the gearbox. Reconditioned Lucas fusebox covers and original Lucas rear-view mirrors were hunted down, Smiths clocks and Brooklands race screens were faithfully re-engineered, and the ignition switch replicates the vintage C-Type's start up process exactly.
Jaguar Classic designers cut no corners in blending vintage and new materials to create a new Jaguar C-Type that honors the original design but adds more high-quality materials for comfort and durability. The last roll of Rexine from the original model was used for the C-Type continuation models, while Hardura trim is new. The Bluemel steering wheel is designed without the center roundel, as it was in 1953, but a new Jaguar badge can be added.
Buyers of the new Jaguar C-Type continuation get the choice between eight leather colors, 12 exterior colors, and the option to add door roundels in either White or Old English White. However, this roadster was designed and built as it was 70 years ago, so it is not approved for daily driving. Enthusiasts can drive on approved courses, including the Jaguar Classic Challenge in 2022.
The new Jaguar C-Type continuation is extremely limited, but you can build your own virtual model on the Jaguar website. Choose your colors and add ons and enjoy a high-res virtual Jaguar C-Type that is all your own. If you can swing it, enquire now to secure one of the 16 replicas built to order.
Cole European in Walnut Creek, California, is your Bay Area Jaguar dealership. Our diverse selection of new Jaguar models and Certified Pre-Owned Jaguar cars are hand-selected for Bay Area drivers. The Cole European Jaguar Service Center in Walnut Creek, CA, employs factory-trained and certified Jaguar technicians to keep your Jaguar performing at its best for years to come. Shop online or visit Cole European in Walnut Creek, California, to test drive a new Jaguar today.