You do not need to be a longtime Jaguar enthusiast to thoroughly appreciate and enjoy the pictorial walk through Jaguar's iconic design history assembled by the manufacturer and available online. It's a series of photographs, from 1935 forward, along with interesting text that describes the major steps of the Jaguar evolution.
It Begins with the 1935 SS Jaguar 2.5I Saloon
The first "Jaguar" was actually a model created in 1935 by the Swallow Sidecar company. However, it was so distinctively stylish and catlike in its design that the makers chose a sleek, elegant, muscular jungle cat as its namesake: Jaguar.
World War II Intervenes
As you might imagine, WWII had a dampening effect on Europe's appetite — and ability — to produce luxurious motor cars and racy sports cars. Additionally, a company known by its abbreviated initials of "SS" was keen to shift gears and rebrand itself. And so it was that in 1945, the "Jaguar" name became the marque of a new brand. The next sensational step in the Jaguar design evolution came with the 1948 Jaguar XK120, a dramatic sports car with sweeping fender lines that seemed to blend race cars, motorcycles, and airplanes, yet exude an entirely feline grace and power.
Can't Stop Scrolling
By that point, just two vehicles into the online tour, we were hooked. Titled "80 Years of Jaguar", the engaging story of perhaps the most stylistically daring car brand in history drew us along the path to the new millennium. It breaks the evolution into three logical time frames: 1935 - 1959 / 1960 -1996 / 1997 - 2016.
For us, it was difficult to select a favorite from each of these three time frames, but it was fun to do so anyway. From Part 1: 1935-1959, it would have to be the XK120. Not only did it launch the legendary "XK" lineage, that particular model seemed to set the tone for all future Jaguar designs. Undeniably supple and catlike, it simply projects the ultimate British sports car. Sleek, elegant, and surprisingly relaxed in initial appearance, it still suggests the power to spring into action.
Our pick from Part 2: 1960-1996 was probably less difficult than we made it, but it was enjoyable to debate which contributed more to the brand, the introduction of the iconic 1961 Jaguar E-Type (the "Jaguar XK-E" in North America) or the last car to be design by Sir William Lyons, the 1968 XJ6, which was first of a legacy. Ultimately, we selected the XK-E because, well, it's a true Jaguar sports car and that passion for sleek lines and high performance is what inspires the brand.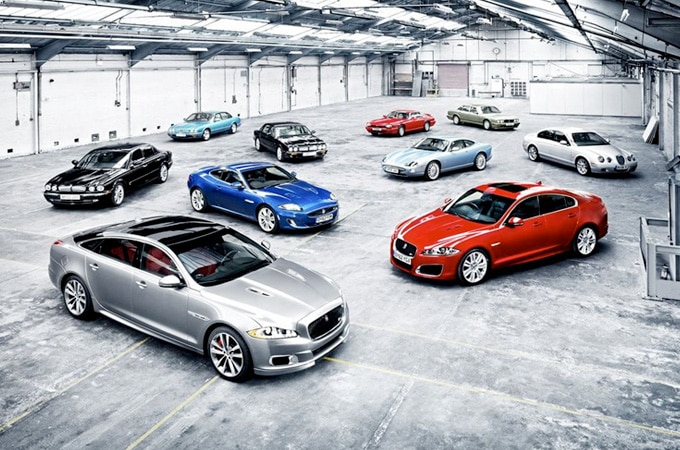 Part 3: 1997-2016 was relatively simple. While it was tempting to salute the Jaguar F-PACE, first of the brand's performance SUV's, we had to go with the F-Type because it's the Jaguar we most like to drive. The F-PACE does an amazing job of translating classic Jaguar styling to an SUV, but the heart and soul of most Jaguar enthusiasts belong to sports cars. We realized this as we looked back and realized we had selected sports cars over sedans and SUV's in all three design eras. At least we're consistent.
Future Classics
Fortunately, as we looked out across the Cole European showroom and gazed upon a new 2022 Jaguar F-Type AWD R Coupe in Santorini Black, we realized that the "good old days" are ongoing. If there was ever an impressive offspring to a long line of powerful and beautiful sports cars, it's the modern F-Type. Not that we wouldn't love to have a vintage Jaguar X-E 4.2 Coupe sitting in our garage for those special occasions, but the modern Jaguar F-Type is an unabashed beast of a sports car with a royal lineage. And, best of all, one can still be purchased in "new" condition, with all the high-tech features we've come to expect in today's finest cars.
Take A Look For Yourself
We've shared our fantasy voyage through the annals of the Jaguar design evolution and hopefully enticed you to visit the "80 Years of Jaguar" website today and see if you don't agree that a modern automobile is best when it's a direct extension of years of creativity and passion for the art of driving.
And if, when you're finished, you're inspired to consider the modern line of Jaguar models, we'd be just as enthused to talk about the current models.
Cole European — Jaguar -/ Land Rover
Cole European in Walnut Creek, California, is your Bay Area Jaguar dealership. Our diverse selection of new Jaguar models and Certified Pre-Owned Jaguar cars are hand-selected for Bay Area drivers. The Cole European Jaguar Service Center in Walnut Creek, CA, employs factory-trained and certified Jaguar technicians to keep your Jaguar performing at its best for years to come. Shop online or visit Cole European in Walnut Creek, California, to test drive a new Jaguar today.