One of the allures of Jaguar ownership is the knowledge that it is a legendary automobile, manufactured in very limited quantities, instantly recognized for its stunningly classic design, and racing heritage. Cole European would now like to introduce you to one of the most limited production Jaguar models to be released: the Jaguar F-PACE SVR Edition 1988. Only 394 of these high-performance SUV's will be available worldwide.
The Story Behind the Name
The F-PACE is, of course, Jaguar's first foray into the SUV category, and it entered the arena at the high-performance end of the spectrum. For that reason, all those involved with its creation agreed that it was essential to acknowledge the sportiness of the vehicle, so the "F" is to closely associate the F-PACE with the Jaguar F-Type, a truly first-class sports car in all senses of the word.
The "PACE" portion is a bit more shrouded in mystery, but interviews with some of the legendary designers and engineers at Jaguar reveal that the name likely harks back to a popular Jaguar motto from the 1960's, "Grace, Space and Pace".
But what about the SVR? Well, that refers to the "SV Bespoke" team at Jaguar Special Vehicle Operations that oversaw the creation of this limited edition vehicle. We hear conflicting explanations for the "R", but it is most often associated with Jaguar's racing heritage to identify ultra high-performance models. But more broadly, the "R" version of any Jaguar model indicates that it is the pinnacle of quality and refinement.
Lastly, "Edition 1988" pays homage to Jaguar's victory at the 1988 World Sports-Prototype Championship with the Jaguar XJR-9.
Long Name. Short Production Run.
All that name for just 394 vehicles that will proudly bear it. An example of Jaguar's commitment to craftsmanship and artistry, if even for a very, very limited number of automobile enthusiasts.
What Makes the Jaguar F-PACE SVR Edition 1988 Special?
Let's begin with a stunningly daring exterior color. Jaguar calls it Midnight Amethyst Gloss. In certain light, at first glance the F-PACE SVR appears black. Not uncommon for a high-performance vehicle, so excuse the brain for interpreting the dark, ultra metallic gloss exterior as "black". However, once illuminated by bright sunlight, the F-PACE SVR is a spectacularly deep, rich, royal purple. Nothing like it on the road. Jaguar confidently states that for this limited edition model, purple is the new black.
But that is just the start. The SV Bespoke team matches the striking black/purple exterior with subtle-yet-elegant Champagne Gold Satin 22-inch forge alloy wheels, Sunset Gold Satin exterior and interior detailing, F-PACE SVR Black Pack components, "One of 394" SV Bespoke commissioning graphic, and a Sunset Gold Satin Jaguar leaper and script on the tailgate. In case all of that is too subtle, the rarity of the model is confirmed with a laser-etched "Edition 1988" on each front wing panel.
Continue the theme on the inside, then add open-pore carbon fiber finishes and Ebony leather upholstery. The overall impact is stunning.
Performance and Technology
Naturally, the Jaguar F-PACE SVR Edition 1988 is still, at its core, an F-PACE. In this case, powered by Jaguar's 550HP 5.0-liter V8 supercharged engine, capable of accelerating from 0-60 MPH in 3.8 seconds. Allow the F-PACE SVR a few more seconds, and you'll enjoy a top speed of 178 MPH. Impressive for an SUV, wouldn't you say?
Add a sliding panoramic roof and the Pivi Pro infotainment system, including wireless device charging and Amazon Alexa integration, and you will not only be traveling at speed, but also in style.
Where to Find the Jaguar F-PACE SVR Edition 1988
That is the exciting part, because it's certainly not guaranteed that you ever will.
You likely won't see one on the road. With only 394 F-PACE SVR's available around the entire globe, it's impossible to say how many — if any — will reach the San Francisco Bay Area, let alone be spotted on the open roads near you. Unless, of course, you happen to own one. If interested in locating an F-PACE SVR, the Jaguar enthusiasts at Cole European are extremely proud to be among the authorized Jaguar dealerships to receive one of these rare, limited edition vehicles. Bob Cole and his team of British automobile specialists, have been serving the Bay Area since 1963. Located in Walnut Creek for over three decades and representing both Jaguar and Land Rover, Cole European can put these years of commitment and dedication toward finding the vehicle that best matches your needs and wants. And if that vehicle is the F-PACE SVR Edition 1988, we would be thrilled and enthused to speak with you about reserving the one we anticipate receiving.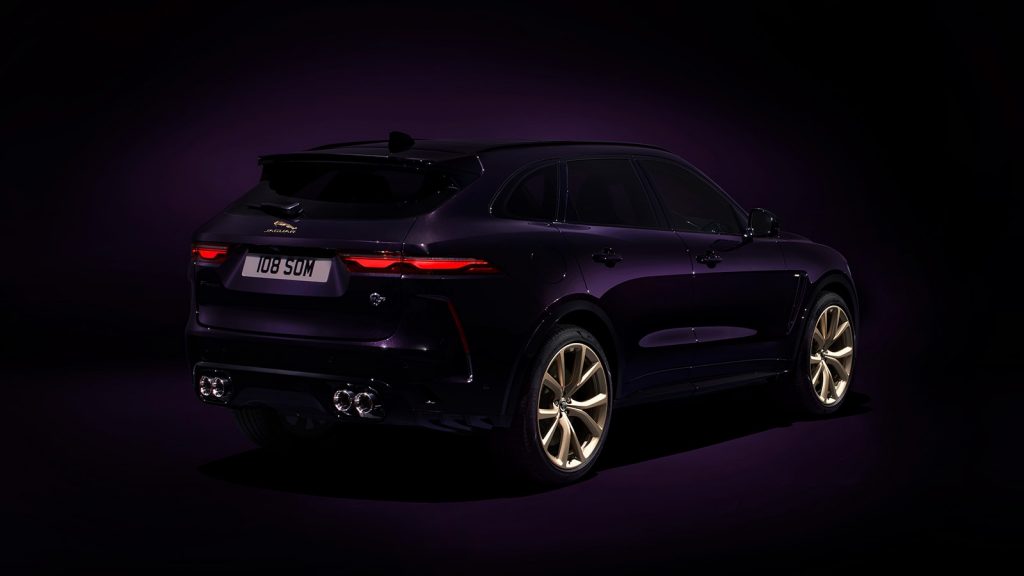 Cole European in Walnut Creek, California, is your Bay Area Jaguar dealership. Our diverse selection of new Jaguar models and Certified Pre-Owned Jaguar cars are hand-selected for Bay Area drivers. The Cole European Jaguar Service Center in Walnut Creek, CA, employs factory-trained and certified Jaguar technicians to keep your Jaguar performing at its best for years to come. Shop online or visit Cole European in Walnut Creek, California, to test drive a new Jaguar today.